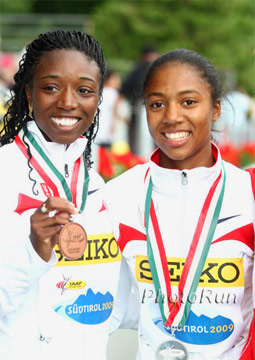 (photo courtesy of Joy Kimani - Dyestat.com)
Bridgette Owens-Mitchell became the first Michigan high schooler to win a medal at the World Youth Championships, capturing bronze in the 100-meter hurdles. Her time of 13.39 is a new state record, breaking her own 13.46 from the semis. Running with a 0.3 (legal) wind, Isabelle Pederson of Norway won the gold at 13.23, and Kori Carter of the United States took silver in 13.26. Owens-Mitchell needed all of her lean to grab the bronze, as Finland's Lotta Harala placed 4th in 13.41.
In the 100, surprising Jordan Clark of Southfield Lathrup finished 5th in the world, clocking 11.76. In the quarterfinals she had stunned with an amazing 11.58. Teammate Ashton Purvis grabbed the bronze in the final in 11.48, as Britain's Jodie Williams won in 11.39.
Tomorrow the only remaining Michigan entrant, Max Babits, will compete in the pole vault qualifying round.
Dyestat coverage of meet, click here.